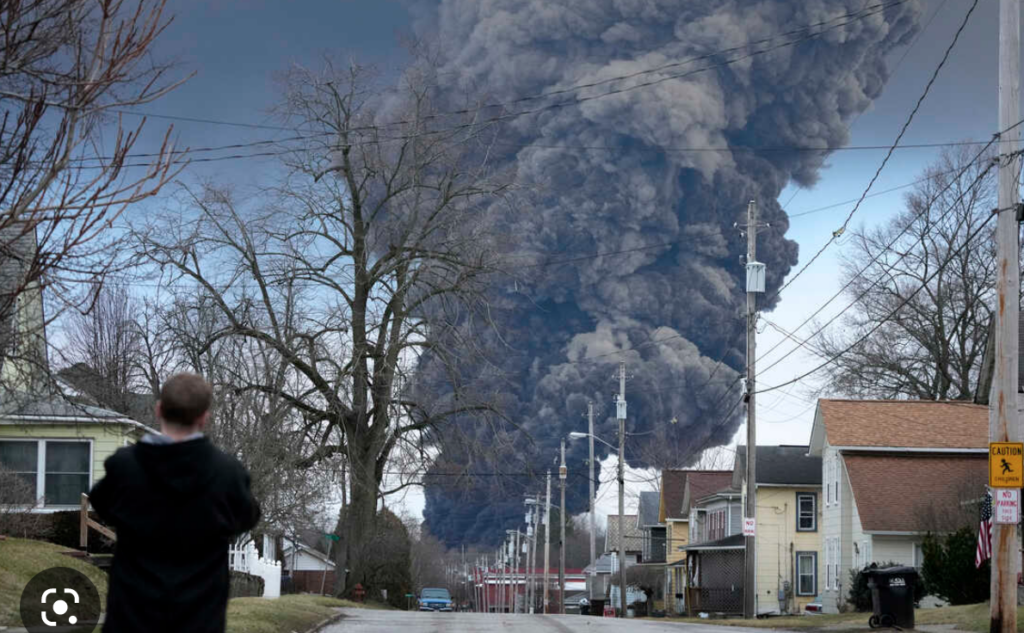 Feather River Action! stands in solidarity with the residents of East Palestine, OH after the catastrophic train wreck and chemical spill earlier this month. Claims that the area remains safe are undermined by the many credible reports of illness and death (of 3500+ fish and other wildlife) in the area. State and federal agencies as well as the railroad appear to be simply lying to local residents about the safety of the area.
Regulators (their salaries paid by the public) allowed Norfolk Southern (NS) to subsequently dump chemicals in an unlined pit and burn them off, creating the massive black plume seen above. Sil Caggiano, a hazardous materials specialist, told TYT that NS officials "basically nuked a town with chemicals so they could get the railroad open." This is totally unacceptable.
The lies and false reassurances are apparently designed to tamp down public outrage and get the railroad open again as soon as possible (to please NS investors) not to address the safety and health of those living in the area. This is unacceptable.
Rail regulations, specifically for natural gas transport, were undermined during the Trump presidency, leading to greater risk for communities along rail lines.
Ron Kaminkow, Feather River Action! member, secretary for Railroad Workers United, current Amtrak engineer and former NS Freight engineer told the Guardian that:
"The Palestine wreck is the tip of the iceberg and a red flag. If something is not done, then it's going to get worse, and the next derailment could be cataclysmic."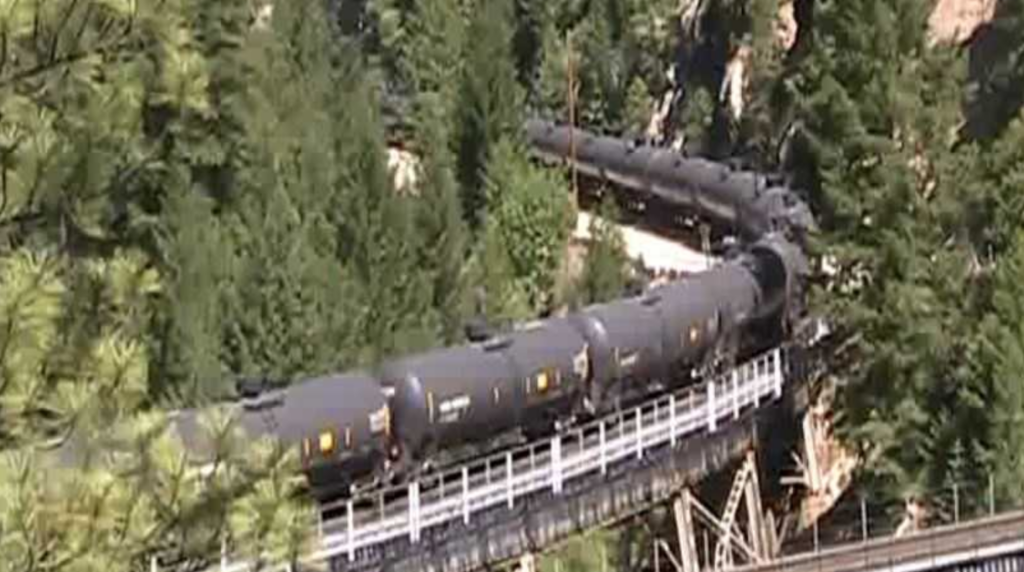 Nearly every day, long oil trains roll along the Feather River, one of California's largest water sources. Multiple trains (containing grain etc.) have derailed and spilled in the Feather River Canyon in recent years. The number of oil trains traveling through the Feather River Canyon has increased more than fivefold since the beginning of the 2010's, according to KCRA. It is just luck that there has not been a massive oil spill in our area yet, and the clock is ticking. Communities along the railroad (Portola, Quincy, etc.) remain vulnerable to derailment and explosion. In 2013, a freight train in Lac Megantic, Quebec derailed and killed 47 people and destroyed half the town.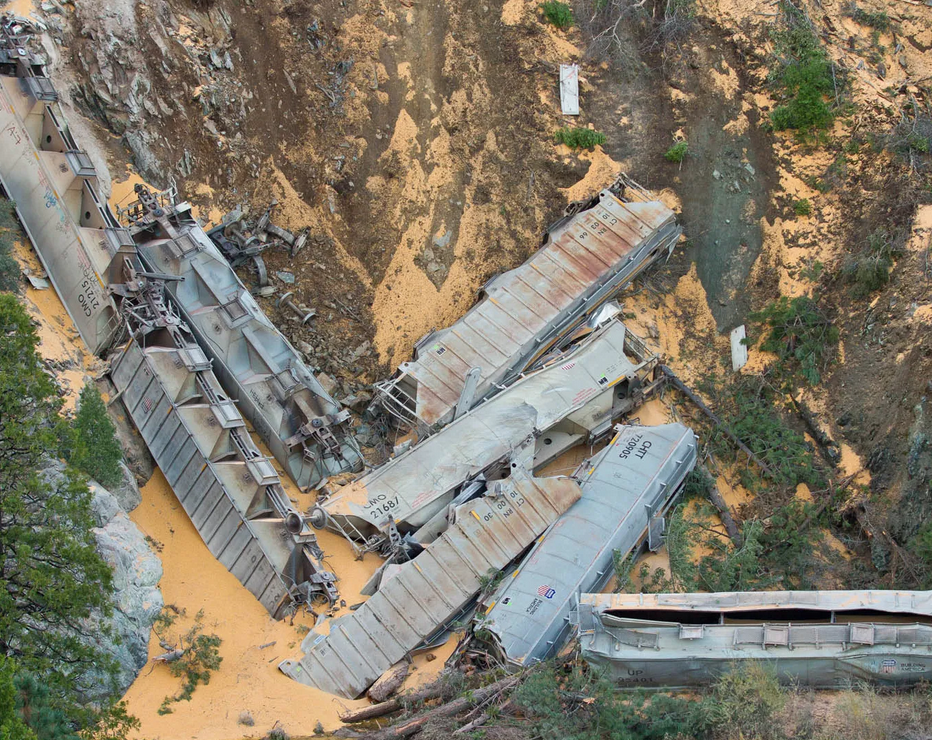 Even when oil shipments arrive without incident, this represents a catastrophe for the planet's climate. Intense catastrophic fires like the Dixie that destroyed the town of Greenville are fueled by an unstable, heating climate caused by the continued burning of oil, gas and coal, in senseless defiance of urgent warnings from scientists.
Fossil fuels MUST be left in the ground, to avoid further atmospheric inflammation and risks of massive disruption, and chemicals like vinyl chloride (released in the East Palestine catastrophe and used to make PVC) should not even be legal to manufacture in the first place. You can make railroads as safe as possible, but there will always be unforeseen incidents when transporting hazardous materials.
The recent trend toward decreased safety on the rails is a predictable outcome of politicians like Donald Trump loosening rail safety regulations as well as job cuts and opposition to vacation and paid sick time by the railroads.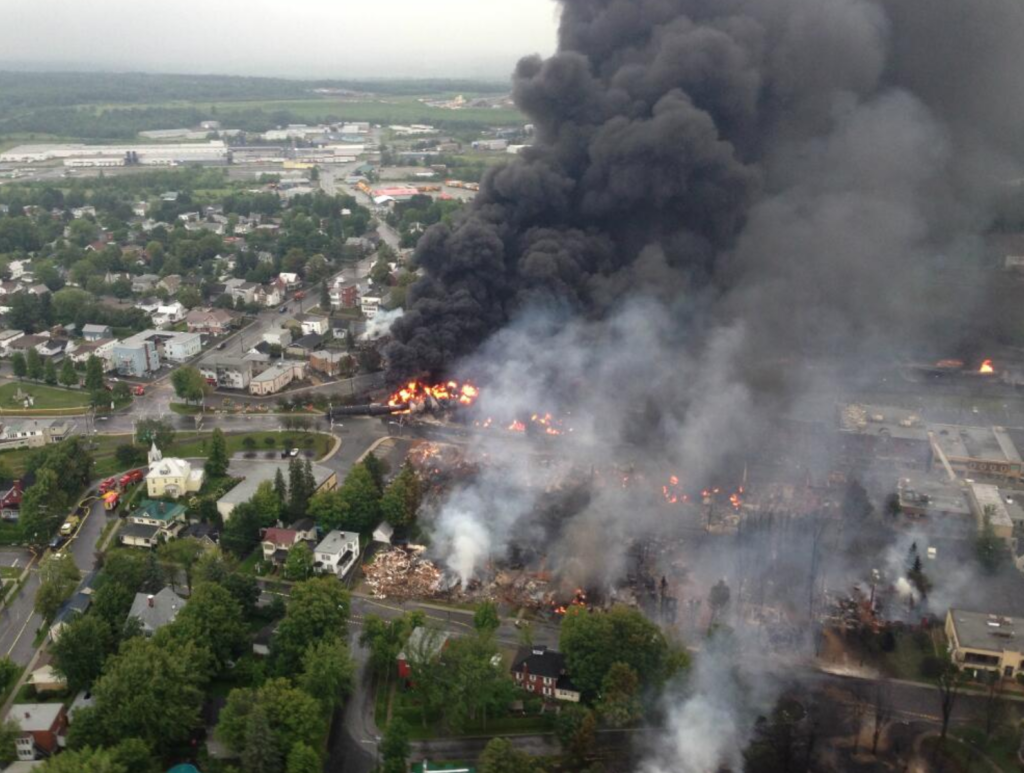 FRA! demands that Joe Biden declare a state of emergency in Ohio and have an independent third party assess and remediate the crash site (no matter the cost) and assess the surrounding area, providing emergency housing to all those who need it, paid for by Norfolk Southern railroad and the chemical companies who created this catastrophe.
The people of East Palestine, and all of us (particularly those in harm's way along freight railroads) have a right to be outraged and secure our health, safety and future without compromise. Do we even need to say it? Our lives (of all species)  are more important that the financial interests of wealthy investors.
-FRA!