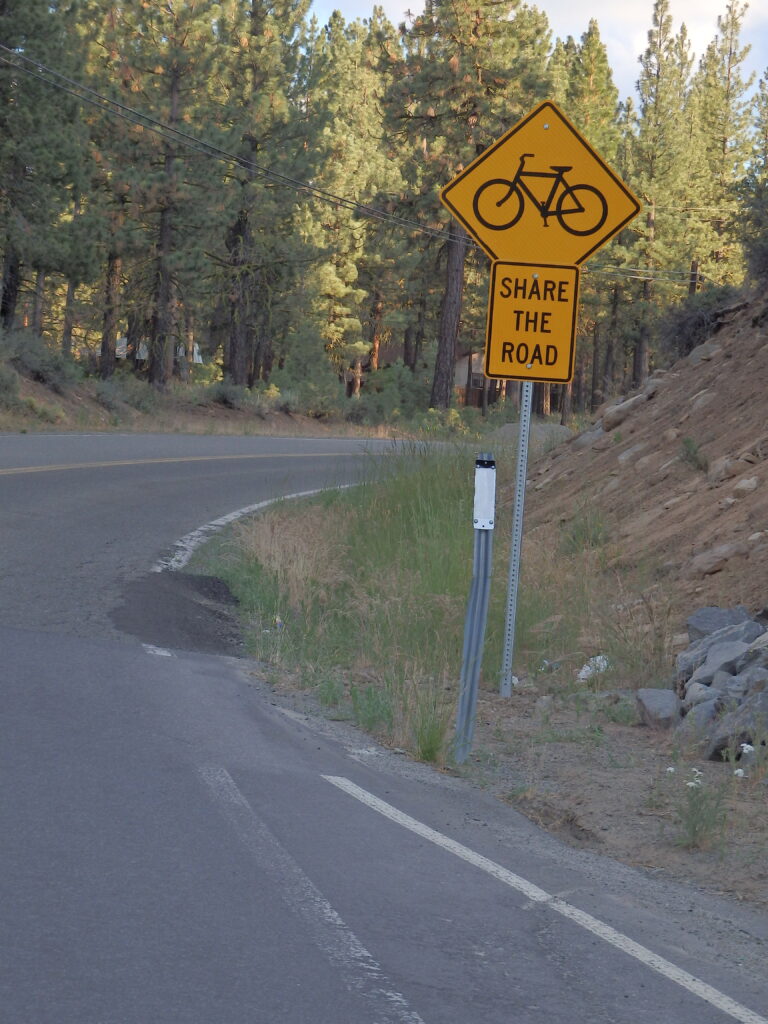 Feather River Action! has been working with Plumas County over the past several months to encourage bicycle improvements on County Rd. A15 and other roads. Bicycle infrastructure is essential to improve local air quality, reduce carbon emissions, and improve local resiliency.
We're happy to announce that the County recently responded to our requests by installing 3 'share the road' signs along County Rd. A15 (Portola-McLears Rd.) including this one located at the 'disappearing bike lane' where many cyclists have reported close calls with cars due to a blind curve and people commonly crossing the double yellow to pass. The vehicle code (CVC 21202) states that when a lane is too narrow to share safely, a bicycle may make use of the full lane, and cars must wait until it is safe to pass.
The share the road signs are not enough by themselves but help raise awareness so that everyone gets to where they are going safely. We are also advocating for "sharrows" to be placed on the roadway to remind drivers that cyclists have a right to the lane, and eventually bike lanes or shoulders added to the roadway, and consideration of a lowered speed limit and/or bicycle and pedestrian facilities. As development at Nakoma and elsewhere ramps up and more traffic comes to the area, it is essential that the safety and quality of the non-motorized experience is not compromised.  Join us, make a donation, or volunteer to help us improve bicycle and pedestrian facilities around the Feather River region. The beauty of non-motorized facilities is that they offer an option to locals as well as drawing tourists to the area.- FRA!